Get Background Checks at the Best Pricing You Will Find
Without Setup Fees, Flexible Packages Tailored for You
No Setup Fee, Create Your Own Package.
Receive our background screening and verification services anywhere across the world. Pay for what you need, when you need it, at the most competitive rates.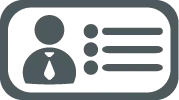 Extensive Screening Options
We have background check options all across the board. That includes: National Criminal and Sex Offender Database searches, County Criminal (2x), Statewide Criminal, and Federal District Court searches in addition with Credit History reports, Eviction records, Driver's License records, Employment & Education Verification, Drug Testing, SSN Verification, Terrorist Watch List, and Motor Vehicle/Driving/DOT Records.
Not sure which type of background check to get? Check the box "Make Recommendations" and one of our FCRA compliant representatives will contact you and design a screening package that fits your needs.